It's Makuru season in my patch of Western Australia, as described by our Indigenous custodians, the Bindjareb Noongar. Makuru is the time of 'first rains', aka winter! It's cold and wet, and I apologise for missing a post last week–I took a much-needed break to reset my brain. I've been doing too much without reward for too long, and my arthritis hates the cold. But Husband bought me a snuggly blanket jumper and thermal gloves, I baked lots of chocolate chip cookies, and–best of all–I got mail! Things are looking up.
My copy of DrabbleDark II has arrived, with my story, Cù-Sìth, nestled comfortably within. (Get your copy here.) I've been enjoying picking up and browsing the drabbles, marvelling at how many fantastic stories are within these pages, and how 100 words can reveal so much.
I always love the moment I can hold my words in my hand. There's nothing quite like examining a finished piece (I say 'finished', but all creators know a piece is never finished, only released). I like to give myself a moment, to say, this is something I wrote. Something I achieved. I think it's important to recognise such moments in life. I'm struggling to 'release' a piece of woodwork I've been meddling with in my other relaxation (aka escape and think) hours, so it's a timely reminder that sometimes you have to let go, and that sometimes, one's work really is good enough!
To help me remember these achievements, I've started a bookshelf collection of my printed works (in two anthologies and a magazine so far), keeping second copies of each for potential future giveaways. The 'collection' is slim currently, but three is more than the zero I had this time last year! And there will be more to come. 🙂
---
Speaking of publishing news, the lineup of authors for Where the Weird Things Are Volume II has been announced! I'm excited to say I'll have a story in this volume, though the tone of my story in this one is very different from the first. I'll have release dates and more information for you soon. Until then, why not check out Volume I?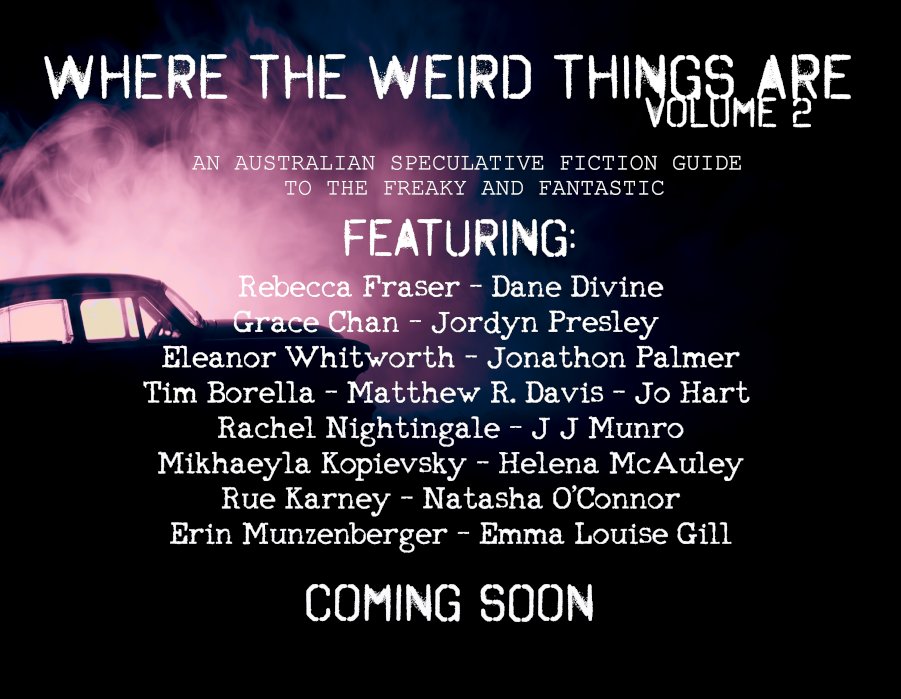 ---
What do you do to celebrate achievements? Does it take until you hold your work in your hands to recognise all you've done to succeed? And does it feel as strange for you as it does for me, to be proud of something you've done?! (If so–don't worry. It takes time and retraining of the brain to do that. Writing this blog has helped me, along with the supportive network I've found.)
I'd love to hear about your own successes in the comments. Whether you made an amazing cuppa (and managed to drink it before it went cold), to receiving a promotion or winning that competition, let us cheer you on!
Because sometimes we all need a moment to hold success in our hands and hearts.
Have a great week,
Emma.