Swancon 2021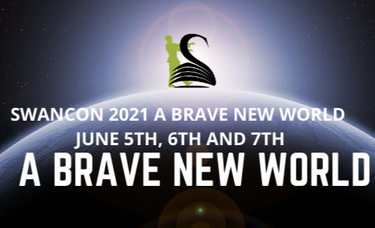 This past bank holiday weekend I attended the rescheduled Swancon 46, Australia's longest continuously running science fiction convention, here in Perth. It ran over three days and included discussions, activities, writer's sessions, author sessions, gaming, movie watch parties, and a costume competition, among other things. It also hosted the Tin Duck Awards Ceremony, Western Australia's science fiction achievement awards.
In the words of the organisers:
Swancon is WA's annual speculative fiction convention celebrating science fiction, fantasy, and other speculative fiction genres. We like to talk about books, TV and pop-culture. We chat, drink, discuss and party; we embrace the serious, the ridiculous and the far-fetched. We also like to play quidditch, live action foosball and kitkat jenga!

Swancon46 (2021)
I was able to attend for only one day, sadly, and missed many of the fine speakers and sessions over the first two days (as well as jenga). I'm hoping that next year I can go to all days – COVID-19 lockdown not withstanding. In fact, a lockdown earlier this year was responsible for the rescheduling of the convention, and its cheeky nickname 'ZomCon'. I'll let you work that out (check the image above for a hint).
This was my first ever convention – not only for writers, but for any kind of fandom. I don't get out much.
I volunteered to be on two panels.
Talk about jump in at the deep end. But not really… perhaps a medium end? Swancon isn't a huge gathering – Perth is, after all, a little isolated. However, I found that the WA speculative community was wonderfully welcoming, and I loved doing my two panels (despite nearly having an asthma attack during one)!
What could I, a newbie writer, possibly share with others, you say? I guess the answer is, you don't know until you try. More about my panels just below.
Monday 7th June
Convention Day. I got up extra early, sat on a cold train for an hour, walked through the quiet city, grabbed a coffee (essential) and set about meeting people. First thing I noticed were the pronoun ribbons. Yes! Talk about representation and making it easy to be respectful. Thank you, Swancon. I may be cis het, but others need this in their lives, and I donated for a ribbon to show my support. The sooner it becomes mainstream to have pronoun ID and for that to be normal, the better, in my humble opinion.
Next, I joined a game of "Innovation" for an hour with fellow attendees and our game guide, Mark Sander. Despite losing thoroughly, I really enjoyed this – a great, relaxed way to chat and get to know people. I ducked my head in to see teenagers and adults alike making an old-fashioned camera, and sat in on Claire G. Coleman's talk on "People of Colour and Indigenous Authors Writing in SFF". Claire, unable to attend in person, joined us live on projected video screen. I love how the pandemic has made it more common to video chat with others.
Speaking of Indigenous authors – I am compiling a list of those who identify as such and would love if you have any suggestions. Mostly I'm interested in speculative fiction, but of course any Indigenous authors would be wonderful to hear about. I am looking at working on a project to collate this information… More to come 🙂
My first panel was on "Anne McCaffrey outside of the Pern Universe". Since McCaffrey was one of my first favourite authors, this one was no trouble. Swancon's Fan Guest of Honour, Stephen Gunnell, along with Katherine McFarlane, were my fellow panelists. Stephen shared some photos and memories of the author from her Guest of Honour slot at Swancon 5 in 1980. There were many great discussions… and we managed to steer away from talk of dragons for almost the whole of it!
The second panel featured Steven Dedman and this year's Virtual Guest of Honour, Claire G. Coleman. Oh, and me. Cue nervous butterflies! Our discussion was called "Reichmarked the Stars: Representations of Colonialism in Space". I did my research on this one, and am pleased to say it paid off: I was able to talk coherently and confidently about representation in science fiction, issues of colonialism and imperialism in past stories, and explore examples of authors who have challenged this in a positive or impactful fashion. My position was (and is) as a new writer coming to speculative fiction with an open mind, looking to learn, and wanting to move past the harmful tropes and stories of our past through serious self-reflection and better writing. I hope to one day be able to live up to that!
If you want to know when I first thought about this issue, I could point to Vida Cruz for their excellent talk on "Decolonising Your Fiction", and Fabio Fernandes' talk on "Writing Post-Colonial Science Fiction: A Primer", both of which took place at the virtual Flights of Foundry conference in April this year. But really, it was Ursula K. Le Guin's The Word For World Is Forest which I read many years ago, and which stayed with me since. If you haven't read it (it's a novella, so not a huge endeavour), I hope you enjoy it as much as I did. And that its message stays with you, too.
(I feel a whole other blog post coming about colonisation in SFF, including links to some of the authors I researched. Look out for that in the future if you're interested in more.)
I would also be lax if I didn't mention here the chat I had with the wonderful Dr Gillian Polack, Australian speculative fiction author and advice-giver extraordinaire to this new writer. It is thanks to her that I signed up to both attend and talk at Swancon, and I was disappointed not to be able to pass on her greetings to fellow WA authors on Monday (my own fault, I know). So, here – Gillian says hi, Swancon!
To conclude, I'd like to congratulate the winners of WA's science fiction awards, the Tin Ducks. Check out their work if you can!
Amanda Bridgeman – The Sensation
1827 Napoleon in Australia – Andrew J. Harvey
Soap Art – Jack Bridges
SWANCON 2020 Art Show by Lisa Rye & Doug Linder
The Big Question: Will I Attend A Convention Again?
Oh, yes – definitely! I'd love to go to Conflux, Canberra's annual speculative fiction convention and this year's National Science Fiction Convention, in October. Still working out the details for whether that's possible, though.
This week I'll be attending the Emerging Writers' Festival, here in Australia and now across the world, the pandemic having brought it online. Starting tonight (16th June), ten days of "storytellers across the globe will unite to showcase their talents, tell their tales and share insights and experiences in a program filled with discovery, learning, and delight." I can't wait to check out the "Short N Sweet" short story workshop with Alice Bishop (sold out). With free and paid events, I encourage you to take a look.
Next month I'm heading to the Rockingham Writers Convention, closer to home and in person. With several really exciting workshops to attend there, I'm looking forward to meeting more local Western Australian authors.
And Swancon next year? 100%. Perhaps I'll even volunteer to be on a panel again, if they'll have me. 😉
---
Have you ever been to a convention? What were your impressions? Which is (or are) your favourite?
Also, please let me know of any Indigenous Australian authors you have come across. There are some fantastic websites already collating this information, but it does seem that there are few in speculative fiction. I'd love to be proven wrong!